COMPLETE SEASONAL ALLERGY & SKIN CARE FOR PETS
Dermabliss™ is a complete line of seasonal allergy and medicated topical skincare products formulated by veterinarians specifically for your pet's needs. Each Dermabliss product uses unique key ingredients to support skin health and help pets who suffer from seasonal allergies. Dermabliss products are designed to offer pet owners an easy and convenient way to promote pets' skin health and ultimately help pets ditch the itch!™

Helps soothe skin-related issues associated with seasonal and environmental allergies.

Formulated with premium ingredients to ensure the best possible health benefits and efficacy.

Helps pets 'ditch the itch' and supports dogs with occasional and seasonal allergies.

Dermabliss™ Seasonal Allergy Supplement for Dogs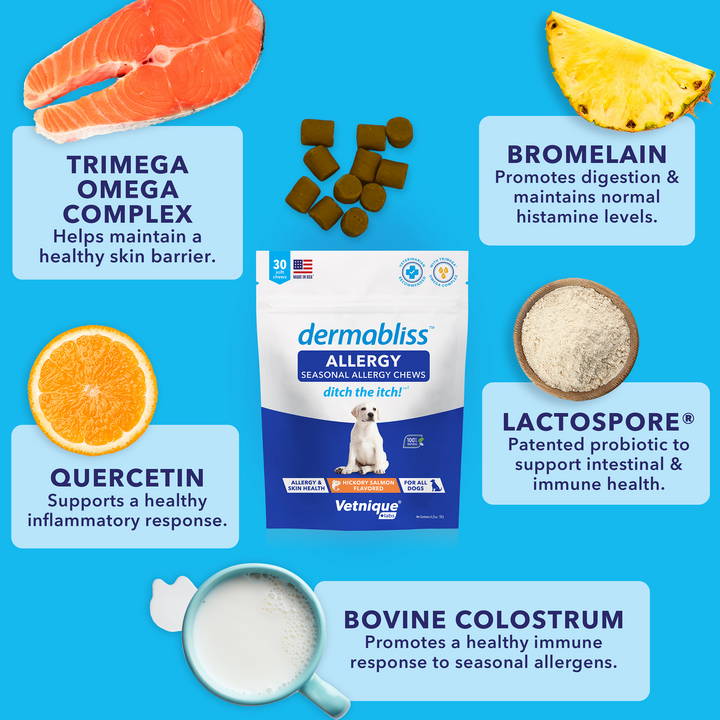 Dermabliss™ Soft Chews are veterinarian formulated to promote a healthy immune response to seasonal allergies in dogs. They provide a convenient way to support your pet's skin health and can be used in conjunction with other allergy treatments.
Dermabliss™ Seasonal Allergy Key Ingredients

With TriMega™ Omega 3-6-9 complex to maintain a healthy skin barrier
Added Bovine Colostrum to promote a healthy immune response to seasonal allergens
Lactospore® Probiotics to help support intestinal & immune health
Quercetin, Bromelain, & Licorice Root to support a healthy inflammatory & histamine response
Antioxidants for added seasonal allergy & immune support
Dermabliss™ Omega & Skin Supplement for Dogs

Dermabliss Omega & Skin Supplement helps support dogs' overall health and wellness. Each soft chew helps provide essential Omega Fatty Acids, Vitamins, and Minerals, to maintain healthy skin, cognition, heart health, and more.
Dermabliss™ Omega & Skin Key Ingredients

TriMega™ Omega 3-6-9 complex + EPA & DHA naturally sourced from Sunflower Oil, Wild Alaskan Salmon Oil, Fish Oil, Flaxseed Oil, Krill Oil & Safflower Oil
Biotin to promote vibrant and moisturized skin, promote strong nails, and help support natural inflammatory processes
Vitamin C to help maintain healthy inflammatory responses & promote cognition as dogs age
Vitamin E to support the immune system's response to oxidative properties and helps maintain healthy muscles, heart, liver, and skin
Zinc to help maintain healthy immune system & thyroid functions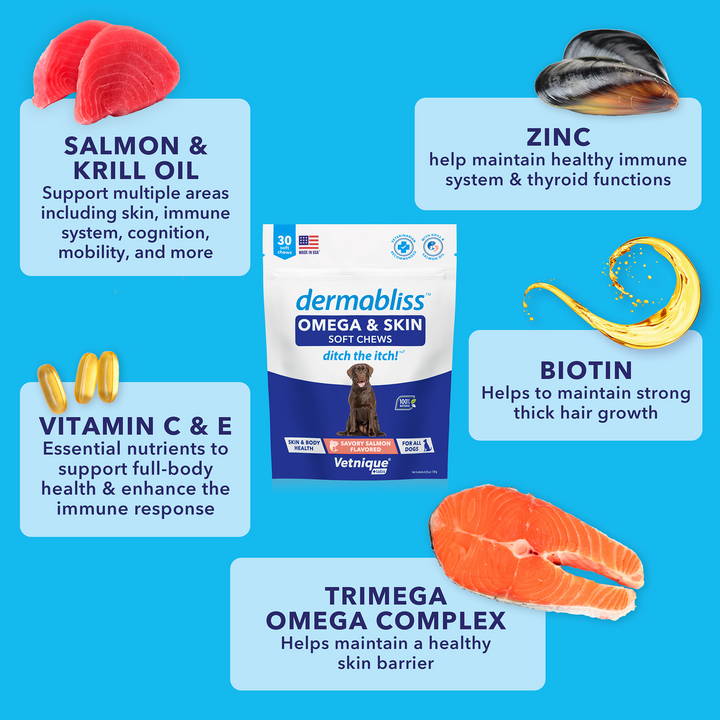 Dermabliss™ Topical Products for Dogs & Cats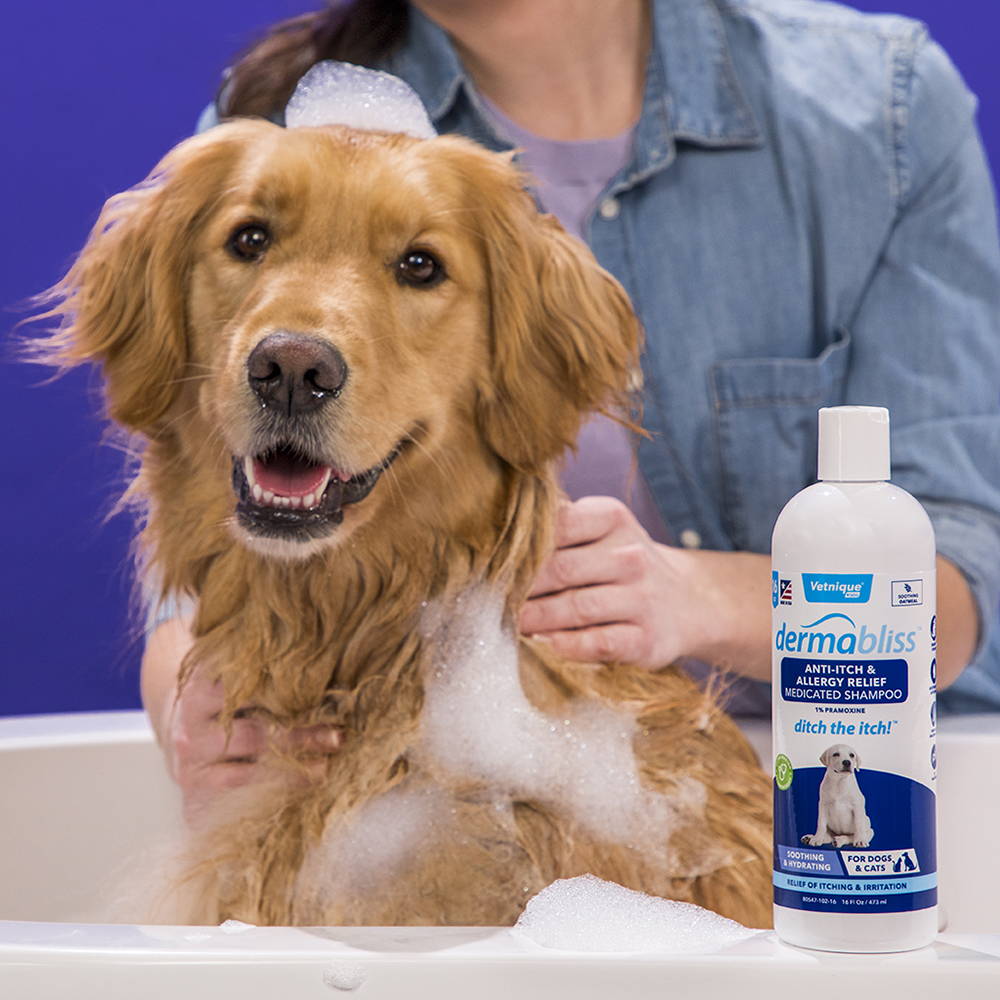 Dermabliss™ medicated dermatological products help provide pets relief from itchy, dry, irritated, and infected skin. Dermabliss offers a wide range of products such as shampoos, wipes, and grooming sprays for your pet's specific skin and coat needs. Dermabliss uses only the highest quality ingredients to protect, moisturize, and soothe pets' skin. Dermabliss dermatological products offer a gentle yet effective solution for soothing pets' irritated skin or managing problematic bacteria, yeast, or fungal infections, including hot spots.
Clinical strength veterinary formulations
Relieves itchy & irritated skin from allergies, skin conditions, & hot spots
Treats infections caused by bacteria, fungus, and yeast
Nourishing ingredients promote healthy skin & a soft, shiny coat
Ph balanced & soap-free shampoos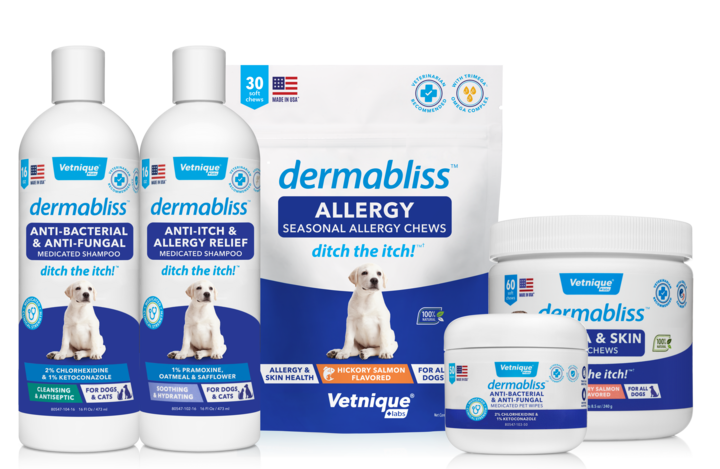 Supports seasonal allergies in dogs


Veterinarian formulated & recommended


Helps pets ditch the itch!™
Dermabliss™ Skin & Coat Products for dogs & Cats