Senior Dog Supplements & Shampoos
Seniorbliss is vet-formulated to help your senior dog live furever young!™
Vet Endorsements
Worldwide
Seniorbliss is vet-formulated to help your senior dog stay furever young!
Vet Endorsements
Worldwide
Senior Dog Supplements & Shampoos
Seniorbliss is vet-formulated to help your senior dog live furever young!™
Vet Endorsements
Worldwide
Dogs age 7+ face changes in digestion, mobility, and more.
Seniorbliss can help your dog keep up with the pups!
Health Essentials for Senior Dogs
Seniorbliss senior dog supplements are uniquely formulated by vets for older pets! From all-in-one multivitamins to hip and joint supplements, we give your senior dog the nutrients they need to thrive during their golden years.
Supports your dog's cognition and energy levels

Promotes increased mobility and comfort

Maintains healthy function of the heart, liver, and kidneys
Support Skin & Coat Health as Pets Age
Give your senior pet the youthful glow they deserve! Seniorbliss dog and cat shampoos support healthy skin and coat conditions as your pet ages, using clinically-proven ingredients that keep them feeling comfortable in their own skin.
Vet-formulated for age-related skin and coat conditions

Gentle enough for senior pets with sensitive skin

Supports healthy aging of the skin and coat
Vetnique's Seniorbliss Hip & Joint Senior Chews are my go-to supplement for senior canine patients needing support for joints and other musculoskeletal structures (ligaments, tendons, muscles, etc.), digestive tract, immune and nervous systems, skin and coat, and more in one delicious chew.
Dr. Patrick Mahaney, VMD, CVA, CVJ
Founder, California Pet Acupuncture & Wellness

Vet-formulated specifically for the unique needs of senior dogs ages 7+
All-in-one formula eliminates the need to give your dog multiple supplements

Backed by clinical science & formulated with premium ingredients to ensure the best possible health benefits

Supports multiple key systems in the body: eyes, brain, heart, immune system, skin, joints, and digestion

What Pet Parents Are Saying!


Seniorbliss™ Seasonal Allergy Supplement for Senior Dogs
"My senior chihuahua was having some butt issues due to bad seasonal allergies. This is a great product if your pup is older with itchy body and anal gland issues. I noticed my baby has been doing less licking, less scratching and overall less itchiness. She loves the flavor too! She is a picky eater. Great product!"

Seniorbliss™ Seasonal Allergy Supplement for Senior Dogs
"I love spending time outside and of course, my lil shadow is always there, sniffing nature by my side! which has been great, until now with allergy season, her nose has been running, eyes getting boogs, and she's been itching more. so i got these allergy chews about a week ago, which so far have been so helpful - less itching, eye tears, and her nose drips less! My girl gets 2 chews a day and she loves the hickory salmon flavor! the salmon also has skin/fur benefits! Great treat for dogs with allergies!"
Seniorbliss™ Hip & Joint Supplement for Senior Dogs
"My senior pup has been a very active little girl up until the last year or maybe a little more. I have used these now for about ten days. After the second day she seemed sharper in listening to commands and when I called her name. Her bathroom issues have pretty much gone away as she goes now once a day and there have been no accidents. She also does not hesitate to go up and down stairs of jumping into my recliner when I'm not there and she's claiming it for her own for an afternoon nap. I love her to death and only want the best for her which is why I give her these both because of the brand and quality ingredients. She definitely has been improved with these and I will continue to give them to her."
Veterinarian-formulated to support the unique needs of your senior dog
Never run out of your pet's favorite products! Subscribe to get your next Vetnique order for up to 20% off, delivered when you need it.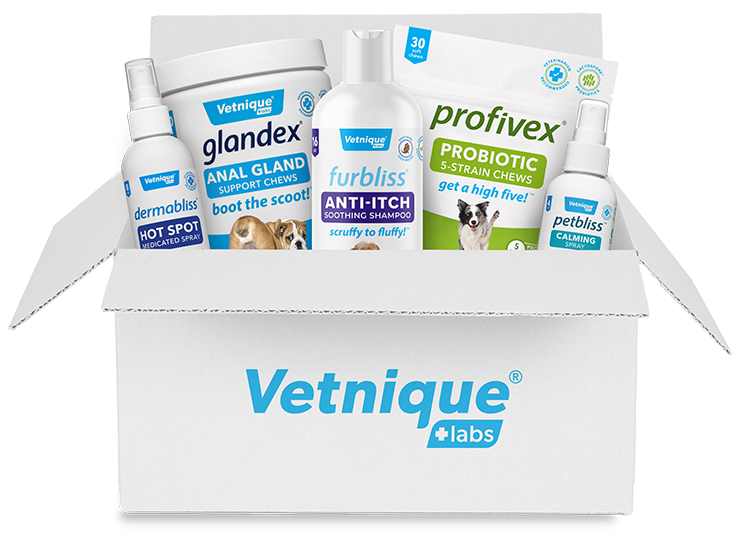 Seniorbliss Senior Support

It all started with a veterinarian who had a simple question: "Is that all we can do for this pet?"
Ten years ago, Dr. James Bascharon set out to create a unique, vet-founded pet health company unlike any other. His intuition was that with the correct nutritional supplementation, pets could not only lead healthier lives but truly thrive.
Today, Vetnique continues the legacy of its globally-acclaimed anal gland supplement Glandex® with a comprehensive portfolio of products designed for lasting pet health and well-being.
Patrick Mahaney,
VMD, CVA, CVJ
We are devoted to helping pets thrive & lead healthier, happier lives through unique, vet-formulated products.