FIVE STRAIN PROBIOTIC SUPPLEMENT FOR DOGS & CATS
Profivex® is a veterinarian formulated probiotic supplement with five of the most beneficial probiotic strains for dogs and cats and five billion CFUs per serving. Probiotics provide good bacteria to the digestive tract and support a healthy microflora. Once the good bacteria thrive in the digestive tract, they support digestion, absorption, and help maintain proper gut flora in pets.
Profivex® also contains a digestive enzyme and two prebiotics; FOS and sweet potato, to help provide a beneficial amount of fiber and nutrients to your pet's diet everyday. Prebiotics provide the building blocks necessary for the probiotic strains in Profivex to flourish in your pet's digestive tract.
Profivex® is made with the highest quality probiotics, including Lactospore®, a patented strain of probiotic that is clinically proven to withstand the harsh environment of the digestive system. With all of these benefits and more, you'll get a high five from your pet!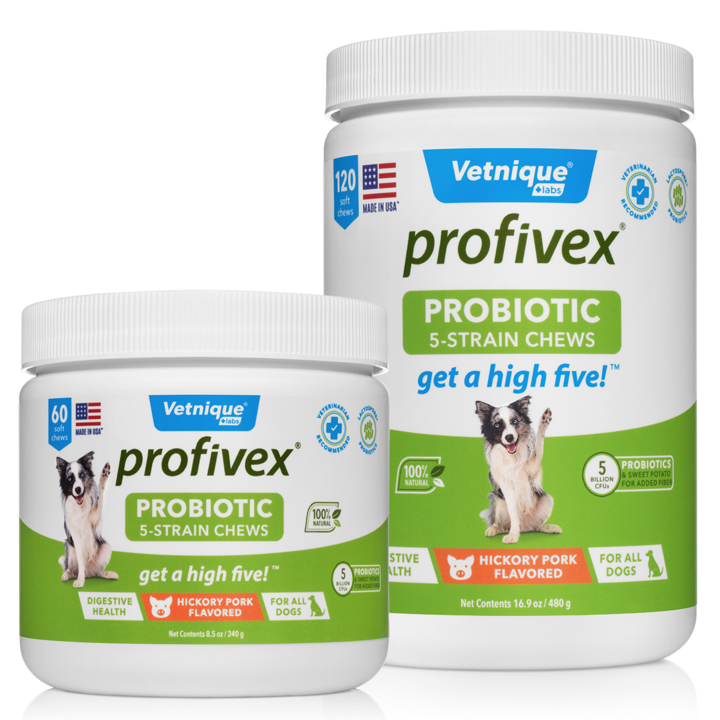 5 strains + 5 billion CFUs per serving

High potency formula with Lactospore®

Great tasting soft chews or powder

Supports a healthy digestive & immune system


Sweet potato & FOS for added nutrients

Veterinarian formulated & recommended

Made in the USA with all-natural ingredients
Profivex® Probiotics for Dogs & Cats