Veterinary Information & Clinic Sample

Complete Senior Support for pets
Seniorbliss line of supplements and shampoos are specifically-formulated to support pets throughout their senior years. Each Seniorbliss product uses unique ingredients to support older pets' daily activity, comfort, and overall quality of life.
Seniorbliss soft chews provide a tasty way to support the primary health needs of senior dogs. Our line of supplements includes 4 different products, each uniquely designed with a specific health need of older pets in mind.

Seniorbliss shampoos help maintain the health of senior dogs' skin and coats. Each shampoo within the Seniorbliss line is specially formulated to help support age-related skin and coat conditions such as itching, irritation, loss of elasticity, and dryness.
As many senior patients need multiple medications and supplements to promote their best quality of life, I prefer Seniorbliss All-In-One chews to support my canine patients' whole-body health, including joints, digestive tract, immunity, and other body systems.
I recommend Seniobliss All-In-One chews over other similar products due to the unique combination of ingredients (TriMega Omega Complex, Glucosamine, Enzyme Blend, Lactospore, Cobalamin, and others) which support multiple body systems and are formulated into a tasty flavor chew which also can double as a pill masker.
Dr. Patrick Mahaney, VMD, CVA, CVJ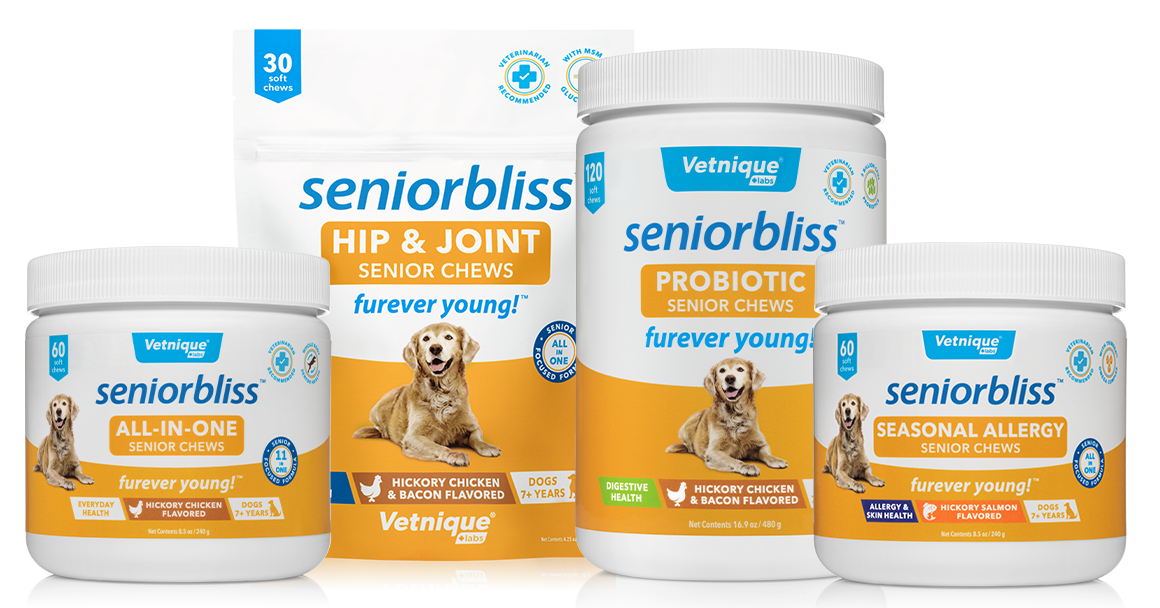 Seniorbliss™ Key Features
Seniorbliss Supplements Features
Help maintain the health of key areas of senior pet health


Glucosamine, Chondroitin, and MSM to help maintain healthy cartilage & joint tissue


Lactospore® Probiotics to help support intestinal and immune health
Seniorbliss Topical Features
Specifically designed to help maintain the health of senior dogs' skin and coats


Relieves itchy & irritated skin from allergies, skin conditions, & hot spots


Treats infections caused by bacteria, fungus, & yeast

Specifically designed to support the primary health needs of senior pets

Formulated with premium ingredients to ensure the best possible health benefits and efficacy

Helps maintain the health of pets throughout their senior years

Seniorbliss™ Veterinary Clinic Sample Request
Please note: samples will only be shipped to verified vet clinics.