Veterinary Information & Clinic Sample

Seasonal Allergy & Dermatology for pets
Dermabliss™ is a complete line of seasonal allergy and medicated topical skincare products formulated specifically for the unique needs of pets. Each Dermabliss product uses unique and key ingredients to support skin health and help pets who suffer from seasonal allergies.
Dermabliss Supplements are created specifically to promote dogs' health both inside and out with their seasonal allergies and overall health. Our soft chews contain premium natural ingredients to promote a healthy immune response and maintain normal histamine levels.

Dermabliss medicated dermatological products help provide pets relief from itchy, dry, irritated, and infected skin. Dermabliss offers a wide range of products such as shampoos, wipes, and grooming sprays for a variety of skin and coat needs.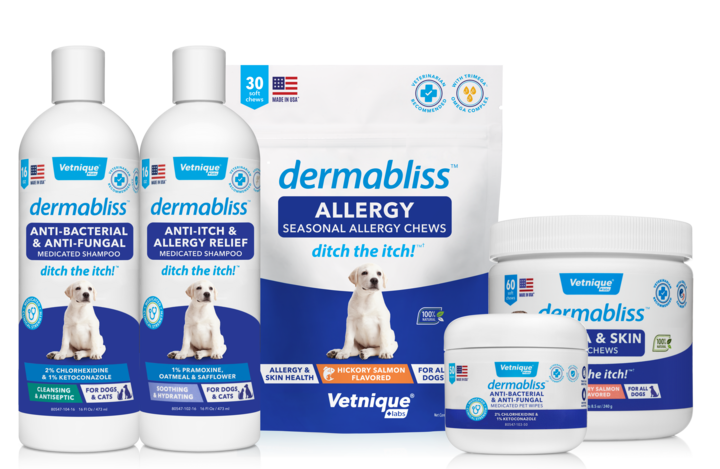 Dermabliss Supplements Features
Promotes a healthy immune & inflammatory response


Can be used in conjunction with other allergy treatments


With TriMega™ Omega 3-6-9 complex to maintain a healthy skin barrier
Dermabliss Topical Features
Clinical strength medicated formulations


Relieves itchy & irritated skin from allergies, skin conditions, & hot spots


Treats infections caused by bacteria, fungus, & yeast

Helps soothe skin-related issues associated with seasonal and environmental allergies.

Formulated with premium ingredients to ensure the best possible health benefits and efficacy.

Helps pets 'ditch the itch' and supports dogs with occasional and seasonal allergies.

Dermabliss™ Veterinary Clinic Sample Request
Please note: samples will only be shipped to verified vet clinics.